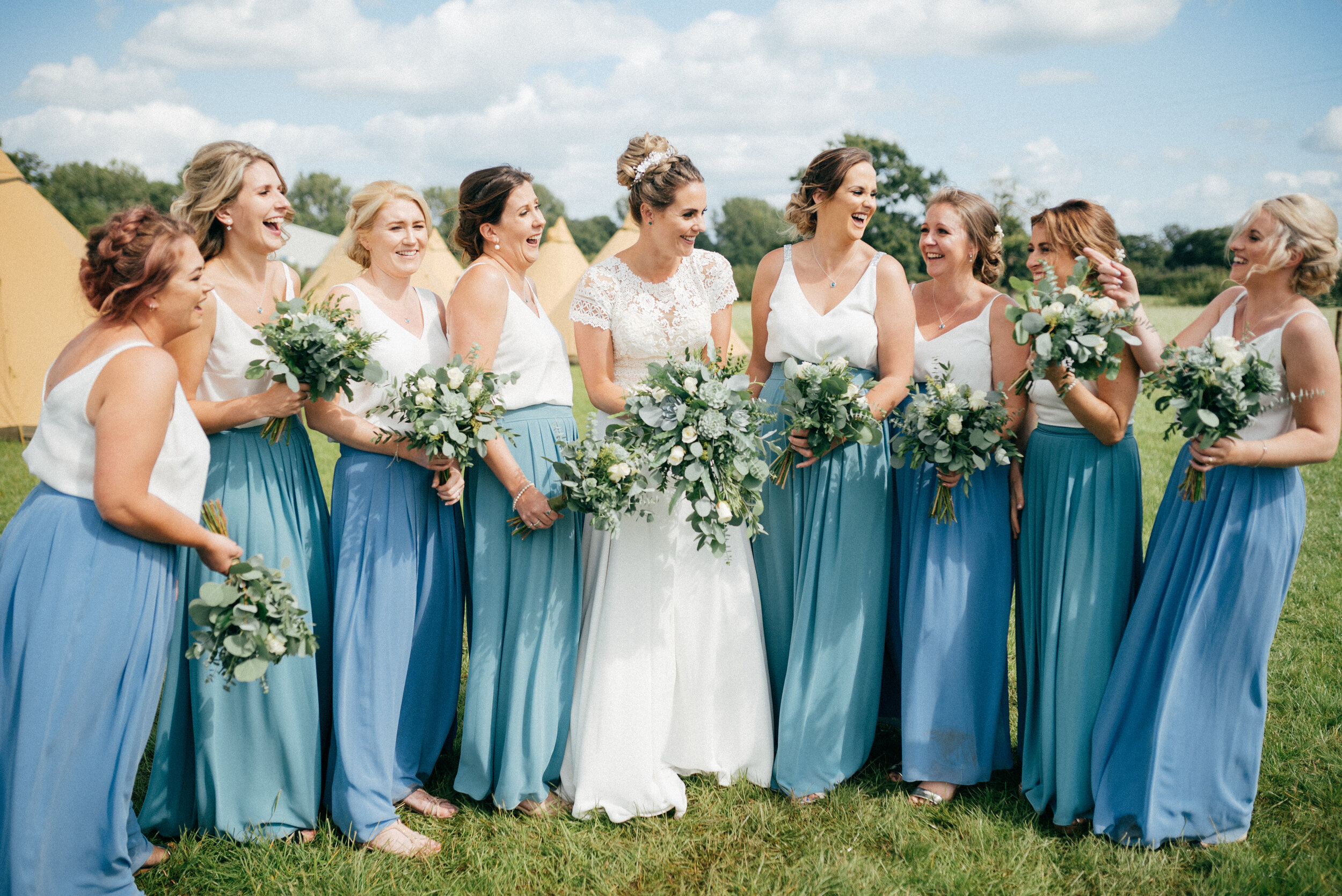 Top Tips For Choosing Bridal Hair For Your Wedding Day
January 11, 2020
Having recently gone through the process of choosing the outfits for my bridesmaids and having been a bridesmaid 6 times, I thought I'd put together some top tips for choosing your perfect bridesmaid dresses.
1. Turn it in to a fun shopping day.
All your favourite girls and a day out shopping: what's not to love! Although you can sometimes get lucky ordering online (I did this myself), going shopping with all your gals is a great way to start. It lets you see what suits them, what they feel happy wearing and is another excuse to chink a glass of prosecco!
2. What's on trend?
Nowadays – anything goes! Think about the theme of your wedding and what would fit in with the rest of the day. I got married in a field….so of course I didn't want the girls wearing an overly formal frock. I decided to team some lovely skirts, in two colours, with ivory tops of their choice. Hopefully this meant that they all felt comfortable, and best of all, it is something that they would be able to wear again. There are some gorgeous sequin dresses on the market at the moment and lots of mix and match options, from different shades of the same colour, to different styles in the same tone.
3. How to cater for a range of body shapes?
If you've got lots of beautiful babes of different shapes and sizes and boobs ranging from barely there to the size of a coconut then mix and match styles can be a perfect way to cater for all body types. The top and skirt combo also works, if you ask all you maids to wear a top of their choice.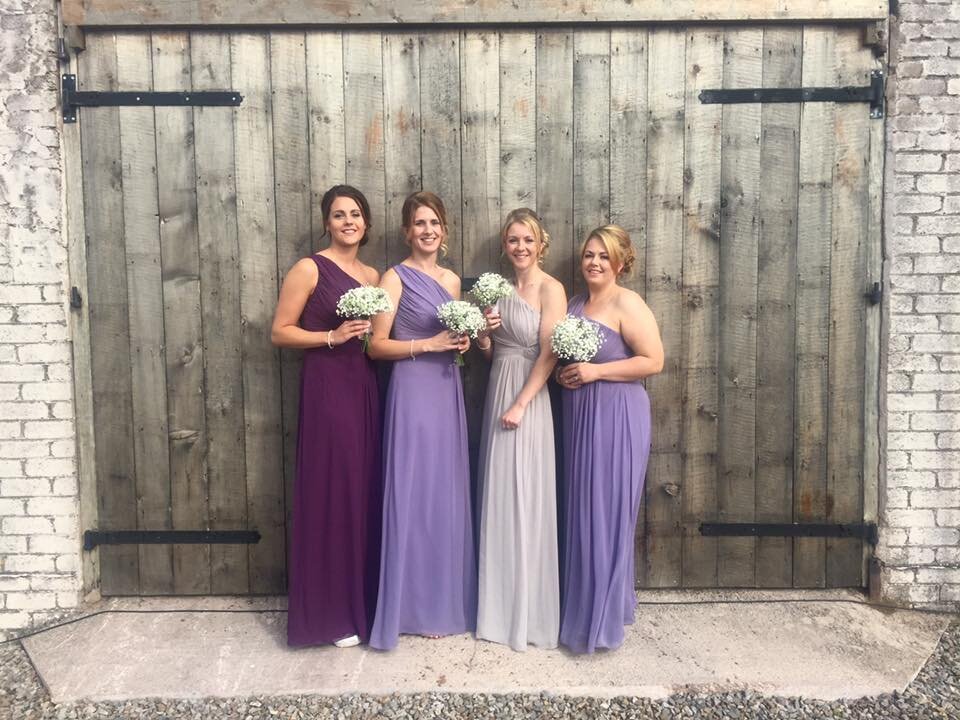 4. Be upfront about the costs.
It really doesn't matter whether you are paying for the dresses or asking your lovely bridesmaids to, but just be open and honest from the beginning so that everyone knows where they stand.
5. Choosing your colour.
There are several things that you might want to keep in mind when choosing a dress shade for your gorgeous gals:
-Skin tones: Do all your bridesmaids have similar skin tones? You don't want to pick a colour that makes them look washed out or pale. Try to find something that flatters their natural skin, and if they are all different then an ombre theme may be best.
-Season: Ruby reds at Christmas, pastel hues in spring and meadow greens in summer; think about what goes with time of year you are having your wedding. -chiffon dresses are lightweight and great for the summer sun.
-Theme/venue: remember to consider the overall theme of your day or the venue that you are hiring, you don't want your bridesmaids sticking out like a sore thumb.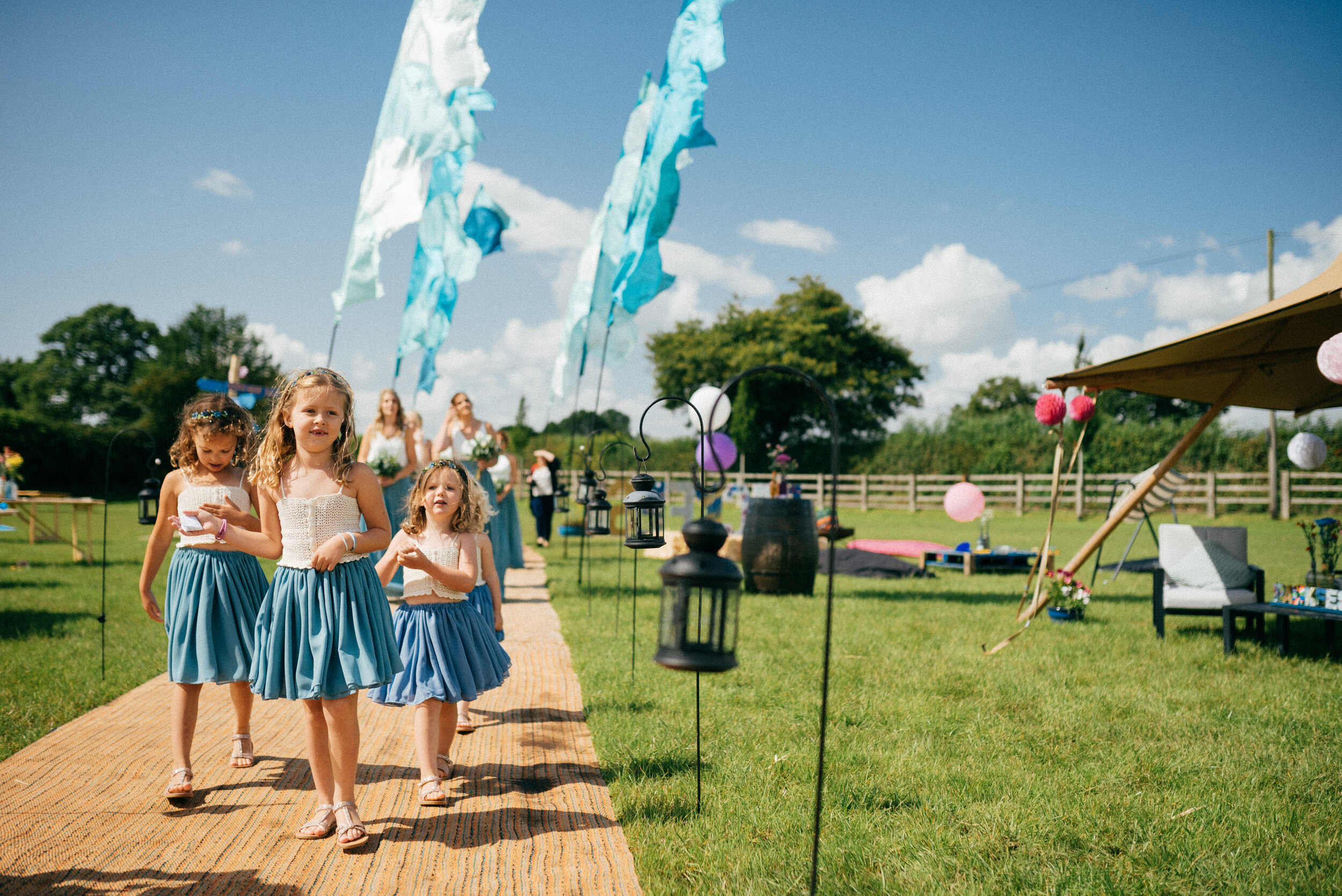 6. Choose your wedding dress first.
While the stress of choosing your one and only wedding dress may be overly daunting, I would strongly advice confirming what you are going to wear before picking your bridesmaid dresses. You want them to complement each other. A tea length wedding dress would look super alongside shorter bridesmaid dresses. If you were having a tulle wedding dress, then a similar material for your girls would be a great match. Equally consider the style; my wedding dress was quite boho and informal, therefore I didn't want my bridesmaids in silky, formal numbers.
7. Let's talk accessories.
It's a great idea to get your bridesmaids a little thank you gift for being by your side, planning an amazing hen do, and helping with the preparations of your special day. A lovely idea is to buy them matching necklaces or earrings that they can wear on the wedding day. My amazing friend, Ayla ,happens to be a jeweller so I commissioned her to make necklaces which I gave my bridesmaids on the morning of the wedding (popeyeanddaisy jewellery ).
8. How to dress your flower girls.
Depending on the age of your sweet, adorable flower girls, then you may want to ensure that you choose something comfortable and easy to clean! My bridesmaid skirts were handmade in Vietnam, ordered from Etsy, and I emailed and asked the seamstress if I could buy some extra material. I then had flower girls skirts made, in a different style, but the same fabric, and tops crocheted to add to our festival feel (https://www.instagram.com/eats.sleeps.crochets)
9. Shoes, shoes, shoes!
It goes without saying, you want shoes that compliment the styles of the dress. My bridesmaid skirts were long so I just said that they could wear any shoes they wanted! Again, being in a field meant that chunky block heels were on the cards rather than stilettoes. To add some fun to the day I also purchased (for not very much money, off ebay) sequin trainers for all my bridesmaids to wear in the evening! You rely on your girls to be on the dance floor at all times; so you don't want them getting sore feet! There are some great styles and personlaised shoes on the market at the moment, but you don't need to break the bank to add some comfort and sparkle to your day! Why not get yourself a matching pair too!
10. Have fun!!
Don't let this be a stressful ordeal – I am sure you have plenty of other things to worry about! Create a group chat so that you can bounce ideas between the girls and get excited together. Make this an unforgettable experience for you and your besties!
Festival Wedding Planners
Festival Wedding Planners Ltd. is a limited company (Company reg number: 12231868).
Photography by Wedding Day Photos.
North West, England (available nationwide)