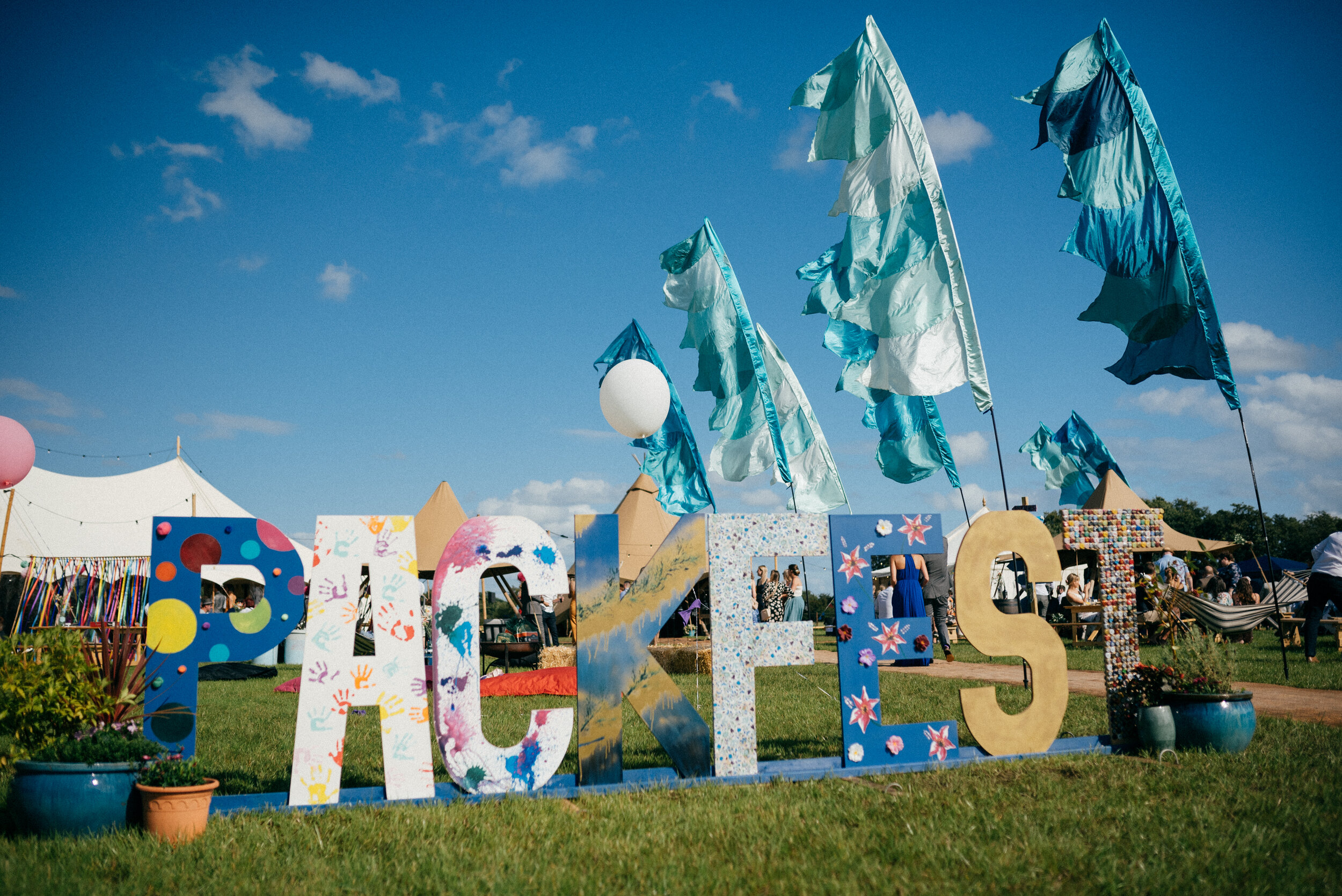 Having been lucky enough to attend the Tomorrowland festival twice and having had the absolute, best time of our lives, we wanted to try and recreate some of the awesome elements for our special day!
The fact we only wanted to invite around 200 people and did not have an especially large amount of money to spend, meant that we weren't really in a position to create an enormous main stage, or to hire Armin for the finale. Nether the less; we took inspiration from the camping areas, endless decorations, street food rows and the numerous activities for visitors to take part in…..Packfest was born!
We have stayed in the general camping area and done global journey, which included a kokono. So, to meet somewhere in the middle of the two we created our own Dreamville and set up glamping villages for our guests to stay in.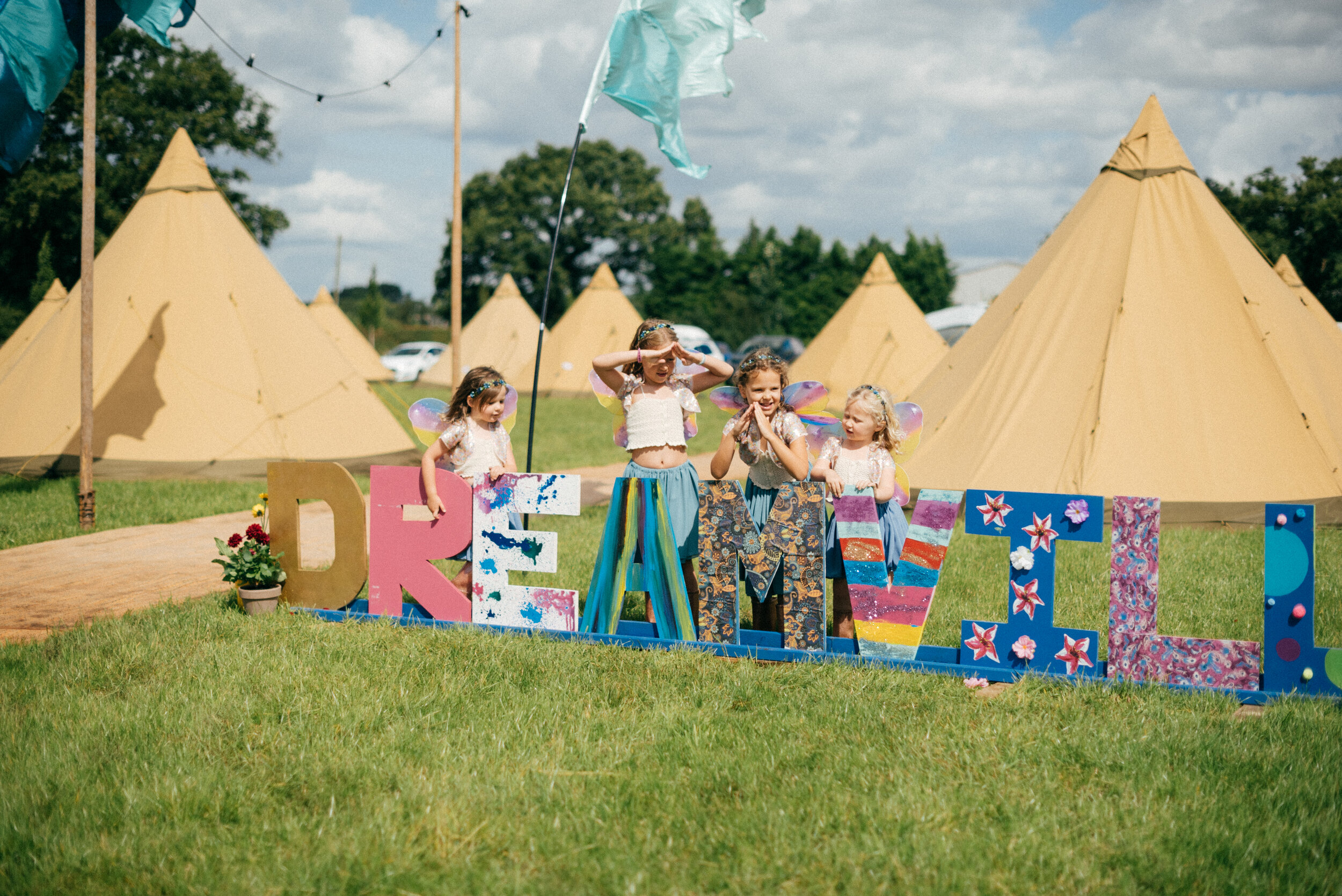 At Tomorrowland, there are always lots of fun and exciting activities to take part in whilst walking in between stages. This includes glitter stalls, tattoo parlours, hair salons, random dress up areas, healing gardens, a random piano you can play and a post office to send postcards back home. With this in mind we wanted to created lots of different stalls to keep people entertained throughout the day. We had lots of games, polaroid cameras, travel pin boards, instruments people could pick up and play and of course, the extremely popular, glitter and gem station! We created giant, colourful signs and Tomorrowland inspired flags, direction poles and hired enormous flags to add some colour to the site.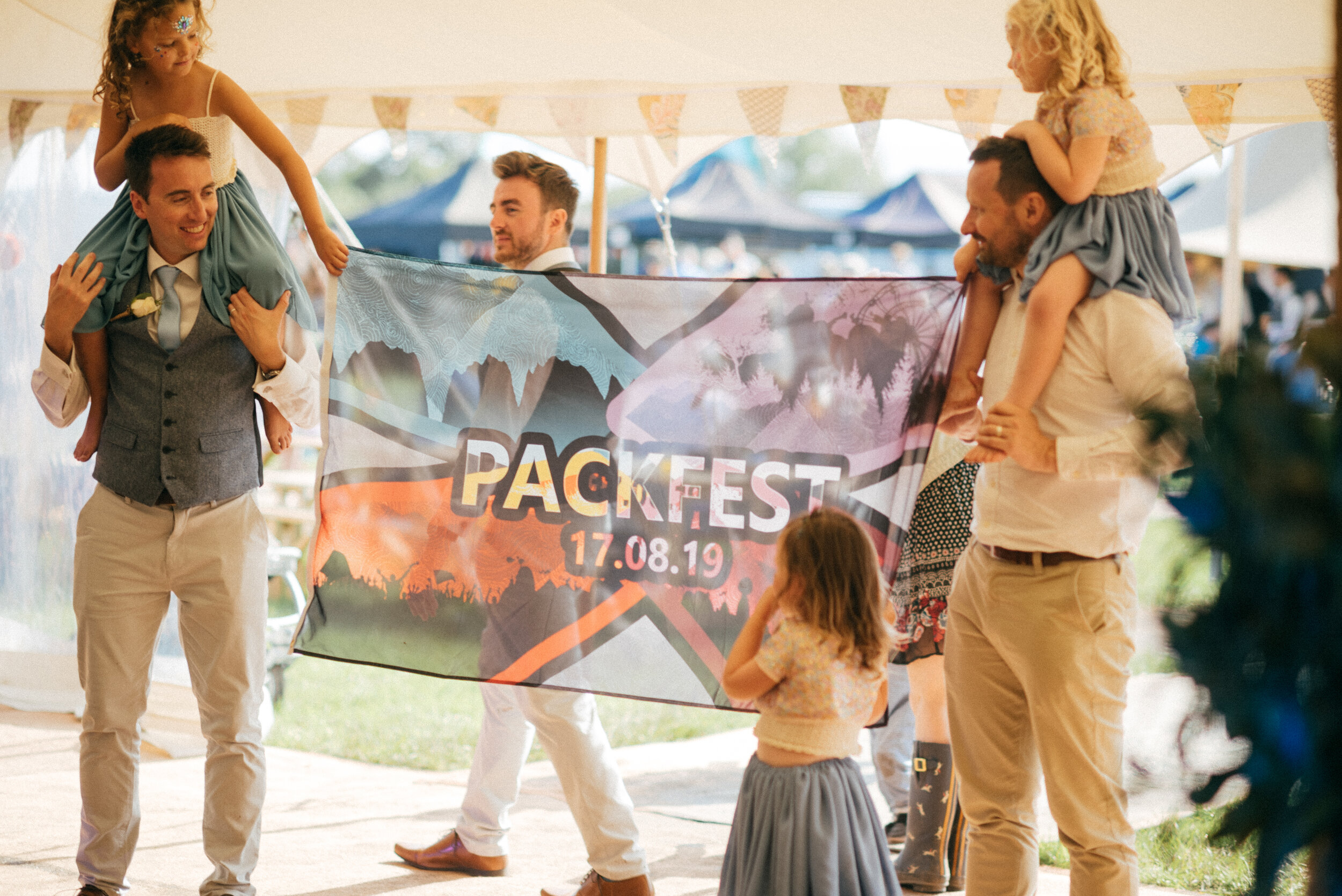 One of the magical things about Tomorrowland is the entertainment. There are lots of actors and actresses, dancers and gymnasts, dressed up and performing here, there and everywhere around the festival ground. We hired a team to perform circus skills and lessons, balloon making and for the finale; a pyrotechnic fire show. It might not quite have lived up to the end show, but for a secluded field in Cheshire, it was totally epic!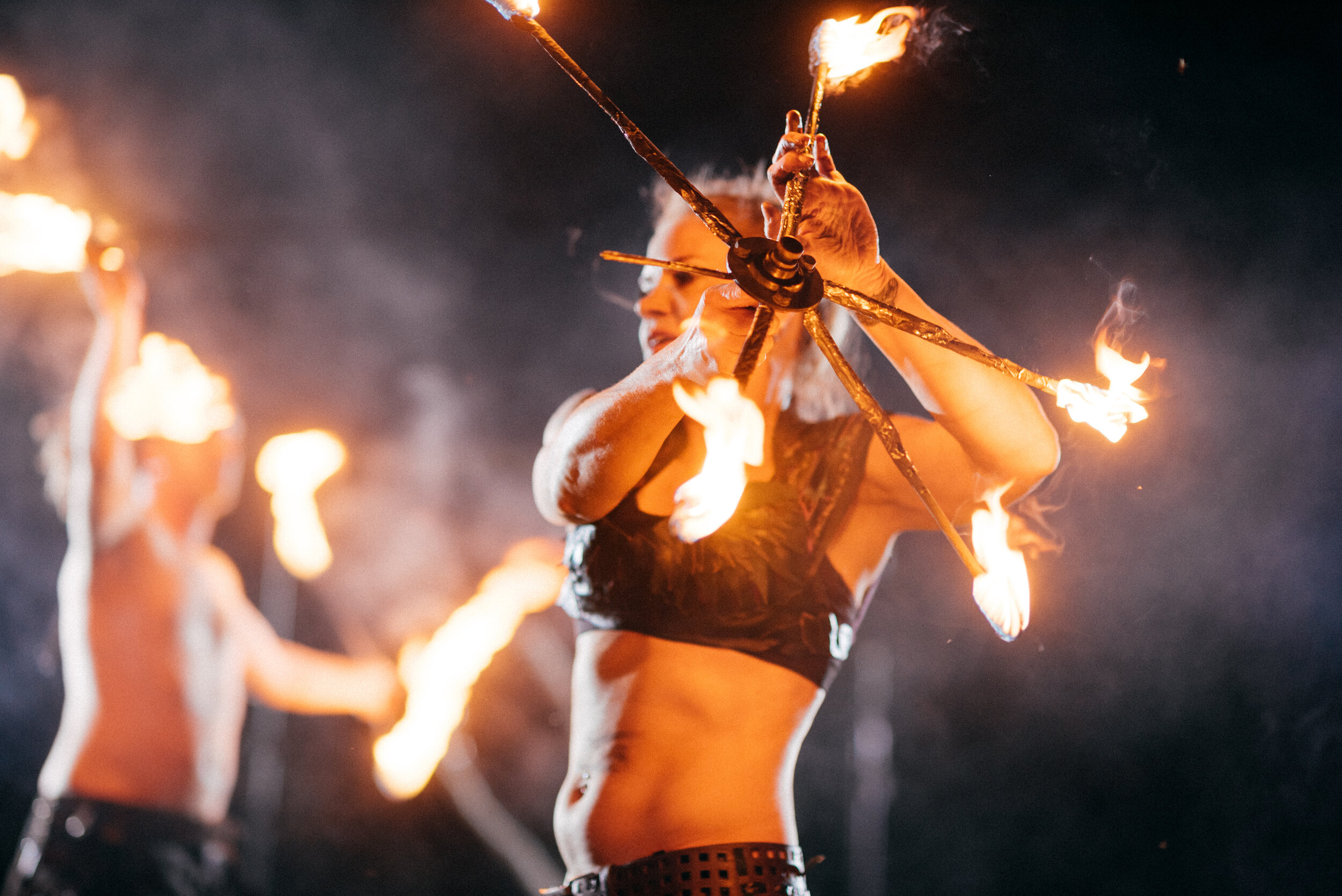 We chose to break tradition, and instead of having a normal sit down wedding breakfast, we wanted to, as best we could, give guests the opportunity to go and sample a range of different delights. Balls of Glory don't seem to feature in North West England, so we settled for stalls serving wood fired pizza, mexican, steak sandwiches and halloumi and chicken wraps.
Having failed (*we did not try) to book Armin Van Buuren for the finale of the event we recruited our friend and talented trance DJ, Duncan Newall to close the show. He even featured the famous speech listened to by thousands at the end of each evening; "live today, love tomorrow, unite forever" at the end of the gig.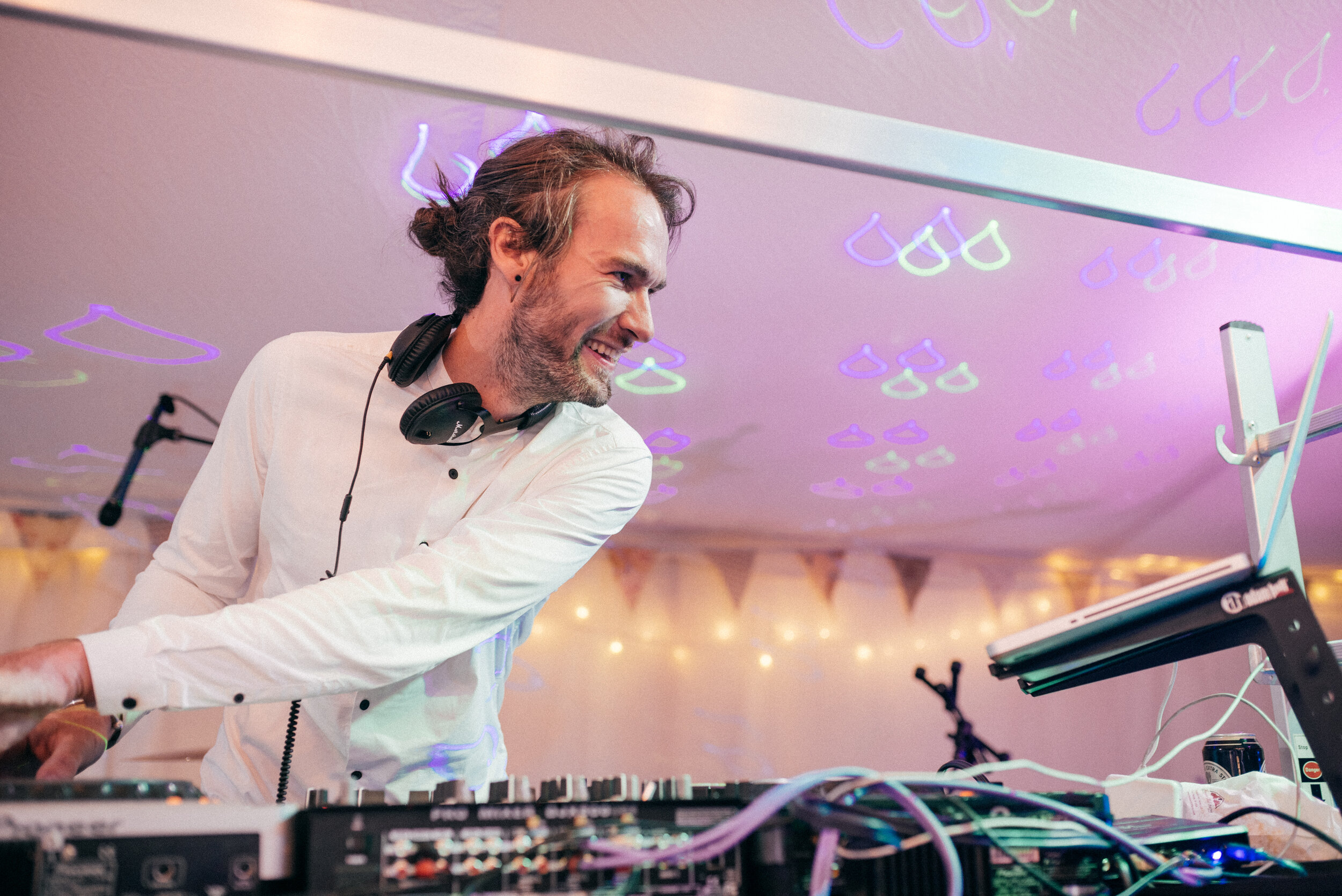 We had the most magical of days and are delighted to have been lucky enough, having been stuck on the dreaded white page of doom for nearly an hour, to get global journey tickets for this year's Tomorroland festival! See you in Boom!
Festival Wedding Planners
Festival Wedding Planners Ltd. is a limited company (Company reg number: 12231868).
Photography by Wedding Day Photos.
North West, England (available nationwide)